Hey guys! I'm on my way back to the US right now from an European cruise… OH MY GOD, am I right? I'll share lots of pictures and what we did in a later blog post, but today I wanted to talk about something I dealt with before going on vacation. THE GUILT. THE STRESS. Sometimes it can feel like prepping for a vacation is more work than it's worth (I promise it's not). Let's chat about that for a minute…
Why do we feel guilty about leaving work, the kids, our responsibilities for a few days?

Because we are not thinking about us.
Literally, that's it right? If we were, we would see that we deserve that vacation, that who doesn't benefit from a little sunshine and sand (or snow and mountains if that's more your thing). We don't tell our besties that they shouldn't take some time to themselves… so why do we do it to ourselves? This is a rhetorical question of course, but I'm hoping you're seeing a pattern here. We typically are better at taking care of others than we are of ourselves, but NOT ANYMORE.
We often worry about the stress our time away will put on other people. The loved ones who are watching the littles, the co-workers who have to fill in the gaps while we are gone. We totally get that, and it's a fair worry. Taking time away does often impact other people. Does that mean we shouldn't take it? Absolutely not.
            Many of you know that I used to work at a community mental health agency where I worked with over 200 people within a month cycle. When I wasn't at work, there was always a chance that one of my clients would go into a crisis, possibly even be hospitalized. My groups were covered by other people, I had to schedule clients in double time to ensure I was able to see everyone. It impacted my co-workers and my clients… so it felt extremely selfish.  
Does that mean that I said no to the vacation? Nope… I was on our cruise as scheduled, for more than one reason.
One, I am a human.
That means that although I LOVED my job, my co-workers and [most of] my clients, I still went ahead and went.  Two, my vacation days are there for a reason. Vacation days were built into my contract. Not using them was a waste of the opportunity I had to travel, explore and spend time with some of my favorite people… plus I went to Harry Potter world, which is basically the coolest place in the entire world. Three, time away is good for relationships. Marriages, friendships, relationships among families, all of the above, get better when you have time to focus on them. We went on vacation with two of my favorite people and to say we laughed is an understatement. Plus I got to read 7 books, who is mad about that?!
And lastly, I am better at my job when I take time off every now and then. I'm not sure about you, but when I do the same thing day in and day out, I start to get less than perfect at it. My brain loses some of the fire, the passion, about what I'm doing. I get tired. I was at a social work conference once and the speaker said that on Monday, he was the social worker of his dreams. By Friday, he was fried, and needing the weekend to reset him. I totally get that! When I go on vacation, it gives me perspective, an opportunity to return to enjoy my work, and time for my brain to reset.
You may be thinking… yeah, but I still struggle with the guilt. That's okay! You are human and guilt is a heavy emotion that doesn't simply go away because you're reading a blog post about a girl who went on a vacation. Here's some tips that have worked for me in the past to overcome that guilt:
Plan in advance:
This one is huge for me, because it alleviates the amount of inconvenience I'm placing on other people. Typically, I give at least 6 months or more notice if I am leaving for a week. I know sometimes this cannot happen, because life happens. But if I can, I do give a heads-up as early as possible. This helps others plan, and know that they can expect me to not be available that week while I'm sipping on pineapple drinks by the pool.
Prepare for the worst.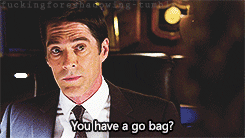 I have been teased about this in the past but I've also been thanked for this as well. I like to picture my worst fear about what could happen while I'm on vacation, and then plan for it. So basically, the clients that are on my mind the most? Supervisors are briefed on them. Instead of letting that anxiety turn into justification for not taking the trip, I prepped for it. Instead of just crossing my fingers and hoping they didn't go into crisis, we talked about what would keep it from happening. Many clients were concerned they wouldn't have someone to talk to if needed. I made a plan with co-workers, and divided up the clients who were concerned among them. When I got back, not one client had needed to reach out to co-workers, but by having a plan, I crossed that worry off my list and they felt more secure as well.
I worked harder to vacation.
[enter picture of before vacation list]
It gets TOUGH to work hard when you have a vacation coming up, right? I always feel like it's the 3rd to last day of school and you're really just going through the motions to get to the end. But, I have found that the harder I work before vacation, the less guilt and anxiety I feel about going.
What does this look like? Well for everyone it will look different. For me, it meant
talking to my clients about my absence. It meant scheduling clients differently, and more preemptively than I would have to if I was going to be in the office. It meant making my supervisors aware of clients I was concerned about, making plans with co-workers like mentioned above. Did it mean that I worked through a couple lunches? Stayed later a few nights? Yes. But overall, it helped SO much.
Remember why you deserve a vacation.
Because this wouldn't be Pause with Purpose, if we didn't talk about how important it is to remember that you deserve happiness. You deserve rest. You deserve making your hardest decision what gorgeous sundress you want to wear to dinner.